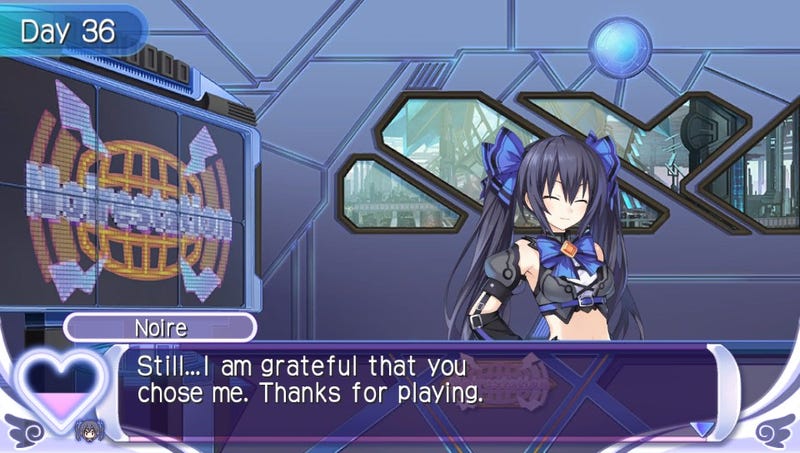 Just feel like talking about my lovely lady, Noire from Hyperdimension Neptunia!
Some of you may know how I kind of obsess over her. Well, get the fuck over it. If anyone here is subscribed to The Great Clement, you know how Dr. Eggman (with a dose of Dr. Wily) is pretty much his life. Well, I feel pretty much the same way, but with, well, Noire.
So, why do I like Noire so much? Well, quite a few reasons, really. Unlike the other CPUs (or basically, the main characters of the series) Neptune, Blanc, and Vert, Noire works very hard for her nation, Lastation, whereas the other CPUs are just plain lazy, hot-headed, and too addicted to MMOs, respectively. She's serious about everything she does....most of the time.
The other reason is because she's hot, and a tsundre. Meaning, she's not always what she portrays herself as (to Neptune and the others) when it comes to having friends and hobbies she doesn't want anyone else (not even her sister, Uni) finding out about. That hobby in particular is..cosplaying. Those of you who've seen the anime series will have seen some of the costumes she cosplays as (one of which I believe is an unlockable costume in the just-released Neptunia PP). As for her friends, well....I'm basically her only friend. And sadly, vice versa (I need some real friends...*sob*), proven by wearing the t-shirt she made just for me! :D
And Black Heart? Well, she tends to tease her enemies, but other than that (and slightly bigger assets), she's basically the same as her human form.
...except for when she's pissed off.
Oh, and I forgot to mention, that I have a playlist on my iPod that consists of character select themes, final battle themes, and other themes. Why? Because I like to imagine me and her (and some of the other characters too) in such situations. For example, the final battle in Sonic Unleashed (PS360) - I imagine myself in my own HDD form taking Super Sonic's place, and Black Heart taking Chip's place.
Here's the full list of songs in that playlist (it's quite long):
Kirihirake! Ro-Play Star Girl (Game size ver.) - Hyperdimension Neptunia Re;birth 2
Proof of the Warrior - BLAZBLUE CHRONOPHANTASMA
Invasion - BLAZBLUE CHRONOPHANTASMA
Obstinacy - BLAZBLUE CHRONOPHANTASMA
Proclamation - BLAZBLUE CHRONOPHANTASMA
Remaning - BLAZBLUE CHRONOPHANTASMA
Then - BLAZBLUE CHRONOPHANTASMA
Sword of Doom II - BLAZBLUE CHRONOPHANTASMA
Continuum Shift - BLAZBLUE CONTINUUM SHIFT
Blue sanction - BLAZBLUE CHRONOPHANTASMA
Idaten - Shinobi III: Return of the Ninja Master
Solitary - Shinobi III: Return of the Ninja Master
Shadow Master - Shinobi III: Return of the Ninja Master
Dust thins out - TEKKEN 6
Character Select - TEKKEN REVOLUTION
Broken Ties - TEKKEN 6 PSP
Elegy - Hyperdimension Neptunia Victory
Yellow Heart's Theme - Hyperdimension Neptunia Victory
Hekira no Sora e Izanaedo - BLAZBLUE CONTINUUM SHIFT
Countinue ~Original~ - MARVEL VS. CAPCOM 3
Retry - MARVEL VS. CAPCOM 3
Take You For A Ride ~Traditional Mix~ - MARVEL VS. CAPCOM 3
Take You For A Ride ~Rock Mix~ - MARVEL VS. CAPCOM 3
Take You For A Ride ~Techno Mix~ - MARVEL VS. CAPCOM 3
Training Room Stage - MARVEL VS. CAPCOM 3
Next Battle! ~Ultimate~ - MARVEL VS. CAPCOM 3
Character Select ~Ultimate~ - MARVEL VS. CAPCOM 3
Victory ~Ultimate~ - MARVEL VS. CAPCOM 3
Launch Out ~ Opening - Guilty Gear XX
AIM TO WIN (Character Select) - TEKKEN TAG TOURNAMENT 2
Theme of Ghost Rider - MARVEL VS. CAPCOM 3
PARTNER SELECT - AQUAPAZZA
Super Sonic vs. Perfect Dark Gaia - Sonic Unleashed
What do-OW!-you guys-OWOWOW!!- think of Noire? -Stop hitting me, Black Heart!- Who's your favorite CPU? Or whether you're a Neptunia fan or not, who's your favorite anime characters? Whatever the case, voice your opinions in the comments belBLACK HEART BETRAYED TJOEB123
(though I'd prefer to hear your thoughts on Noire...)